Buying your first home, constructing or simply renovating? Our flexible home loan will give you the financial boost you need to support your project.
Features
Available to individuals with verifiable and steady income flow

Maximum tenor is 20 years, subject to retirement age of 60 years

Simplified Documentation

Minimum down payment of below 30%, subject to the location

Competitive interest rates

No equity contribution is required for Home Equity Refinancing

Property to be financed must be residential and not for commercial purpose.
Required Documents
Application letter

Personal Home Loan Application form

Last 3 months payslip

Statement of accounts

Applicant's letter of total emolument

Confirmation of applicant's employer on FBN approved list

Valid title document

Letter for irrevocable domiciliation of salary for the duration of the facility.
Who Can Apply
Employees in paid employment and self-employed professionals.
To apply for the Personal Home Loan,
1) Who is eligible for home loan?
An applicant with a verifiable & steady income (paid employment or self-employed)
2) What is the minimum loan amount on a mortgage?
N1 million
3) What is the maximum loan amount on a mortgage?
N50 million
4) What is the loan tenure?
Maximum of 20 years subject to 60 years retirement age.
5) Do I have to make any down payment?
Yes, Minimum of 30% on the cost of the property to be bought or constructed irrespective of the location.
6) What documents do I need to submit to get a Home Loan?
Offer Letter from the vendor/owner, letter of application, Home Loan application, letter of Introduction from employer.
Letter of awareness and irrevocable domiciliation where necessary.
Current tax clearance, current tenement receipt, pay slip.
Valuation report if it is an old house.
Bill of quantity if it is a construction home loan.
Copy of the title document to enable a legal search.
7) Can a Joint Mortgage be packaged for spouses?
Yes
8) What security/collateral do I have to provide?
Typically the security for the loan is a first and exclusive charge of the property to be financed, by way of deposit of title deeds and/or such other collateral security as may be necessary. The title to the property should be clear, marketable and free from any encumbrances.
8) How do I repay the loan?
From your income (cash flow)
9) Can the loan be paid down before the facility expires?
Yes, after 12 months
10) Do I need to open an account with FirstBank to access and service the loan?
Yes
11) What are the stages involved in taking a mortgage loan?
Pre-assessment Stage
Processing & Approval Stage
Perfection Stage
12) What are the various types of home loans offered by the Bank?
Outright Purchase
Construction Mortgage
Home Equity (Refinancing)
13) Can I access a Home loan on an uncompleted building?
Yes, It could be packaged as a construction home loan or refinancing loan as the case may be.
14) How do I approach FirstBank for a Home Loan?
Through any of our branches closest to you.
15) Can FirstBank assist me in selecting a home of my choice?
Yes, we have a list of reputable estate developers whom we partner with. You can decide to purchase from any of them but this is strictly at your discretion. This service provides the customer assistance in identifying a property that fulfills his/her requirements from a vast database of properties.
16) Do I need to pay additional charge apart from the interest rate?
Yes. The cost of perfecting the title of the property to cover the interest of the bank.
17) Who can be the co-applicants for the loan?
You could include your spouse as a co-applicant for the loan and we shall include his/her income to enhance your loan amount.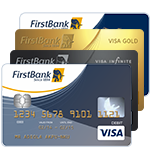 Credit Cards: Enjoy the buy now pay later facility our credit cards offer you, as well as other numerous benefits. 
Share this: