The FirstBank Corporate Identity Refresh
As a brand of fortitude, strength and innovation in the African financial sector, following its adoption of a holding company structure, FirstBank on January 27, 2014, unveiled a refreshed corporate identity, including that of all its subsidiaries, designed to reflect the company's strategic direction and position it to meet the future needs of the market. The African elephant which is a respected and instantly recognisable icon of its brand identity was retained. However, it was re-ignited with a number of enhancements that communicate a robust evolution relevant to today's marketplace.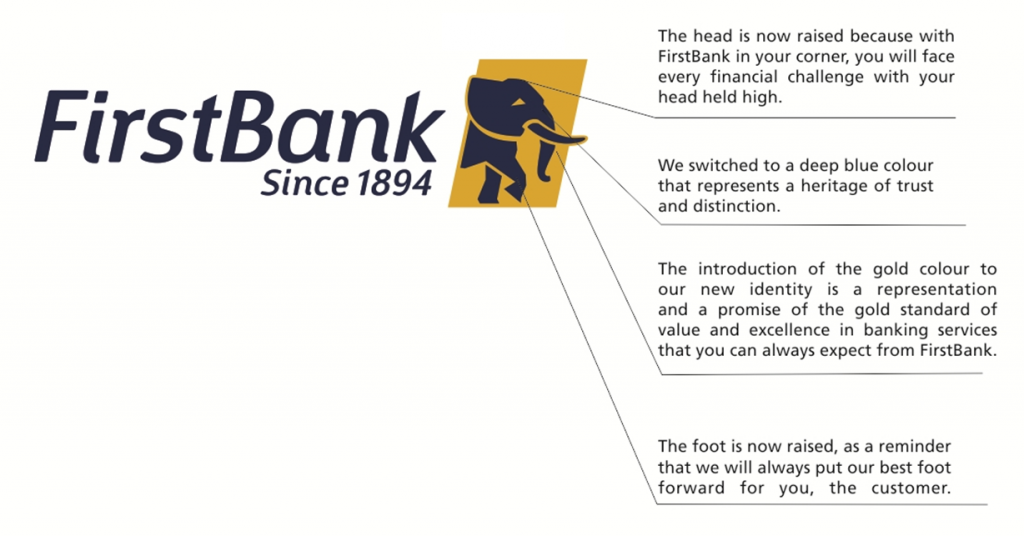 The raised head of the elephant in our refreshed identity is our promise to all customers that with us in their corner, every financial challenge they face, they can face with their head held high. The deep blue color represents momentum, innovation and evolution. These principles ensure that we continue to develop solutions that are at the heart of all their challenges. The raised foot of the elephant is a promise that we will always put our best foot forward for each and every one of our customers. The adoption of gold into our logo, a precious metal identified with value, serves as a reminder of the inherent value and durability of our brand. This marks a renewed promise to all our stakeholders – a promise to continue to set the gold standard of value and excellence in financial solutions across Sub Saharan Africa.
The FirstBank Brand
At FirstBank, we recognise the immutable merits of maintaining a "brand-first" mindset and culture, as a critical component of our business strategy. Our brand has evolved over the years, with strengthened brand muscles to match the constantly evolving expectations of today's increasingly discerning stakeholders.
Since launching in 1894, FirstBank has established itself as a brand of strength and dynamism, with the vision to be the leading international banking group in Sub Saharan Africa. Our brand is at the heart of the holistic experience we seek to deliver to our stakeholders perpetually, which is essential to retaining patronage and the competitive edge that keeps us at the coveted position of the market leader.
Our brand interacts with our stakeholders and demonstrates an understanding of their busy modern lives or businesses, to support their aspirations. Hence, we have evolved over 129 years by respecting and upholding the shared heritage relevant not only to today's modern Nigerians but also today's modern world.
Our brand is therefore on a definitive mission to create a strong global presence in order to reinforce our position as the leading Sub Saharan banking services group. We champion our brand to constantly strive to find a better way of driving our business forward, driven by our philosophy and people – our customers, our stakeholders, our employees.
We live by our beliefs and consistently strive to Inspire Understanding, Drive Collaboration, and Build a Better Way to unify and strengthen our brand to delight all stakeholders. Consequently, we work daily to implement best practices through our culture and ultimately enable our employees to understand our customers' lives and be driven to meet their needs appropriately.
Our brand purpose is to always put our stakeholders, customers and partners at the heart of our business, even as we are poised to standardize customer experience and excellence in financial solutions across Sub Saharan Africa, in consonance with our brand vision "To be the partner of first choice in building your future".
Our brand promise is thus to always deliver the ultimate "gold standard" of value and excellence. Our financial services knowledge and practices lead the market in ensuring that we understand our customers and surpass expectations by seeking for a better way of delivering first class service and experience.
This dedication to delivering the gold standard is anchored on our inherent values of passion, partnership and people, to position "You First" in every respect.
To date, the iconic African elephant has been a robust symbol of strength and growth, establishing the organisation as a clear leader in the financial services industry. The elephant is the respected and instantly recognisable icon of the FirstBank brand identity and as such we value the trust, approachability and stability that this represents.
Our new refreshed corporate identity retains the elephant and re-ignites this iconic symbol with a number of enhancements that accentuate a robust evolution relevant for today.
Our brand language is the visual and narrative look and feel of our brand. It is the essential combination of the logo, the images, the fonts, the pattern, the icons, the colours, the symbols, the identity and the words.
The new colour palette is a clear reflection of our brand personality and tone of voice whilst robustly portraying our profitability pedigree. It evolves the FirstBank trademark Blue to reflect a richer and more premium equity and combines with new complimentary colour partners.
In putting "You First" we promise to be:
There for you, and committed to you, our customers and stakeholders
A financial solutions group that listens, understands and connects with you as people
A financial solutions group that will deliver the relevant experiences that exceed your expectations
A financial solutions group that has the products and services that meet the diverse needs of modern Sub Saharan Africa
A financial solutions group that you can trust and rely upon
A financial solutions group that is there as a constant financial partner throughout our customers' lives